Friday, 06 December 2013 23:39
Madonna has confirmed David Blaine as the December guest curator for Art for Freedom. Guest curators collaborate with Madonna to select daily submissions to be showcased on artforfreedom.com.
"Madonna, who has always been an incredible inspiration, invited me to be a part of Art for Freedom. It's an amazing platform to bring artists together and I look forward to seeing the brilliance this generates."
"I am excited David is signing on as guest curator. This is only the beginning of Art for Freedom bringing artists together to change the world." commented Madonna.
As part of the Art For Freedom initiative, David Blaine will work with Madonna to select one artist from their respective month whose creative expression demonstrates a unique view of the fight for human rights. Madonna will then award a $10,000 grant to a nonprofit organization of the winning artist's choice. All projects must be focused on the values of Art For Freedom.
The latest freedom fighters chosen to receive an Art for Freedom grant are Amber Fares and the Speed Sisters - a documentary about the Middle East's first all women motor racing team. Against a backdrop of social and political upheaval, Speed Sisters presents an inspiring look into the drive to be true to oneself. The grant will go towards finishing the film. You can see more on the project here - https://vimeo.com/79217415
Launched in September 2013, Art For Freedom is a global digital initiative, led by Madonna in partnership with VICE Media, designed to fuel free speech - to respond, address and protest persecution and discrimination around the world. It is an online public art project encouraging people to express their personal meaning of freedom and revolution, in the form of video, music, poetry, and photography. Public submissions become part of the Art For Freedom website: contributors can join the project by uploading original artwork or tagging original posts #artforfreedom. The project was launched with the film secretprojectrevolution, co-directed by Madonna and Steven Klein.
VICE Media continues to serve as co-curator of Art for Freedom, leveraging VICE's extensive global network of filmmakers, artists, writers, musicians, museums, and more, to contribute works to the project.
Madonna.com
Friday, 06 December 2013 14:53
By the end of February a second Hard Candy Fitness will open in the Prenzlauer Berg in the Schonhauser Allee 112 in Berlin.
This will be a 'female' club, nothing known yet on Madonna's attendance or the festivities surrounding the opening.
Source: Tagesspiegel
Friday, 06 December 2013 07:28
There are no translations available.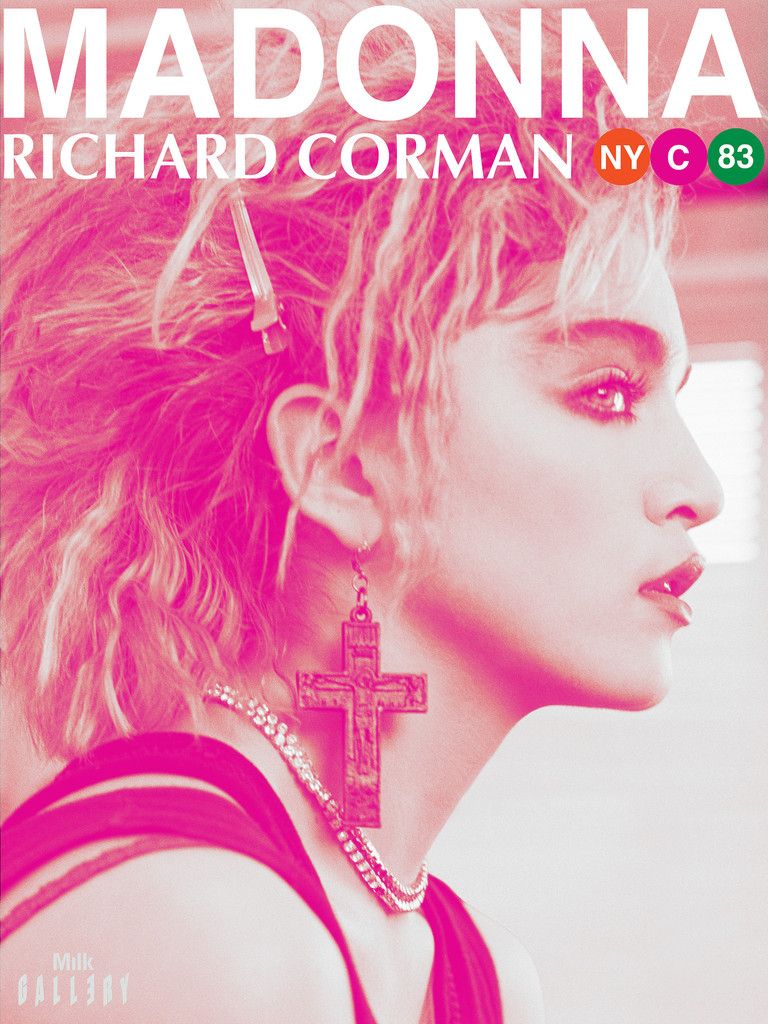 This Exhibition Poster is signed by the photographer and is a limited edition of 100 posters in each color. They are printed on a very heavy weight card stock and is shipped flat. The poster is 24" x 36", vertical orientation.
Madonna NYC 83 celebrates the vibrant electricity of early 1980s New York. Richard Corman met Madonna by chance in 1983 and created a beautiful and iconic collection of images of the young Madonna and downtown New York that remains timelessly inspiring and significant. Madonna NYC 83 is not only an homage to Madonna and the early 80s, but also a collage of exuberance, humor, fashion, sexiness, and performance.
$75.00 each poster (black or pink)
$125 set of both signed poster
Order HERE
From the Madonna NYC 83 Exhibition by Richard Corman, this series of 16" x 20" open edition contact sheets are from the outtakes and the final selections of the book and exhibition. Each contact sheet depicts the Material Girl in various poses and the photographer's unique notes on selection, cropping, and editing. A must have for any Madonna and photography fan! (7 differents sheets $350.00 each)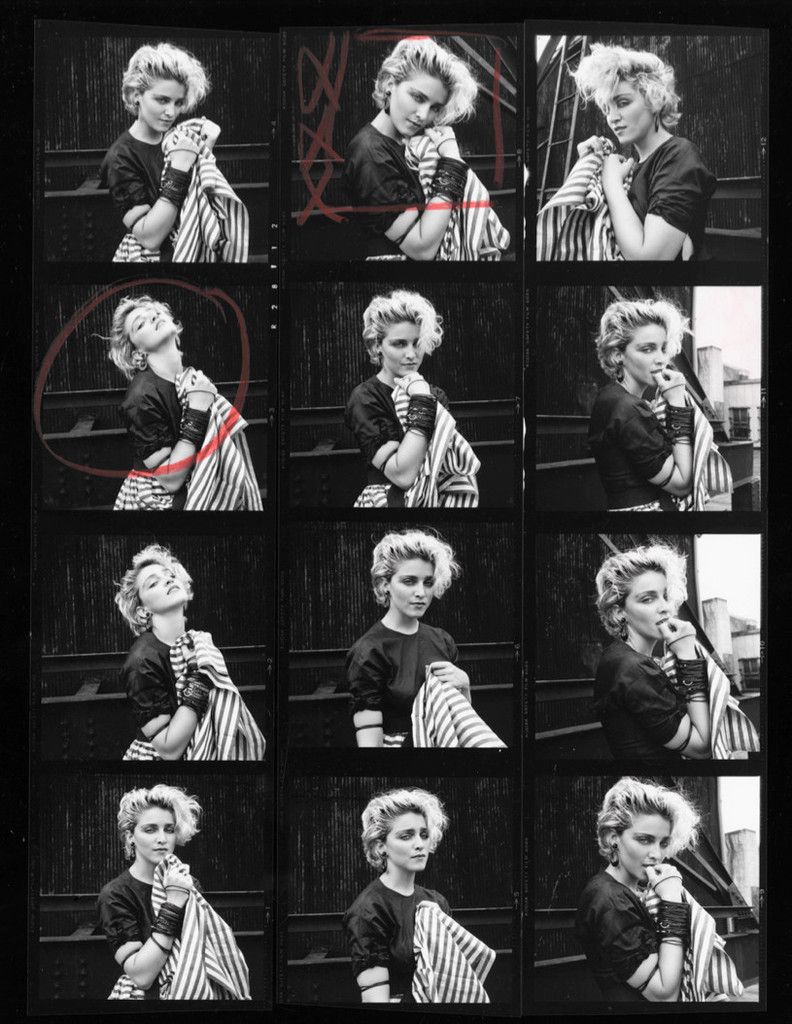 (@Milk Gallery)
Thursday, 05 December 2013 09:59
Wednesday, 04 December 2013 08:25
Wednesday, 04 December 2013 07:48
Tuesday, 03 December 2013 09:38
Tuesday, 03 December 2013 08:17
In Malawi we are fighting the spread of HIV /AIDS. Raising Malawi is joining forces with Elizabeth Taylor AIDS foundation and Grassroot Soccer to teach HIV/AIDS prevention. Knowledge is power! Join the Revolution of love in Malawi! http://bit.ly/182UBdj
Monday, 02 December 2013 22:23
Madonna has joined the Human Rights Campaign's (HRC) new "Love Conquers Hate" T-shirt campaign in support of Russia's beleaguered lesbian, gay, bisexual and transgender community.
The Queen of Pop penned a poignant email to HRC members, a copy of which can be found on the advocacy group's official website. She writes:
Even with the 2014 Sochi Olympics just a few months away, fair-minded Russians are facing fines, harassment, and violence at the hand of thugs.
At this dangerous moment in Russian history, we as advocates have a responsibility to speak up and take our hopeful message global.
Noting that the goal of Russia's controversial "gay propaganda" laws is "to leave LGBT Russians feeling isolated," Madonna adds, "Together, we can send a message to LGBT Russians that the world is on their side, and that those who seek to support them aren't alone in this fundamental fight for fairness."
"It's time for love to conquer hate everywhere, for everyone," she concludes. "I hope you'll stand with me in this fight."
You can read Madonna's email in full here. The photo above shows Madonna wearing the T-shirt and accompanied the email.
It isn't the first time that the Material Girl, 55, has spoken out in defense of Russia's LGBT residents. During a St. Petersburg show on her MDNA World Tour, she urged fans to "show your love and appreciation to the gay community." She then added, "We want to fight for the right to be free," Reuters reported at the time.
She was later sued by a coalition of anti-LGBT groups for more than $10 million for "moral damage suffered by St. Petersburg residents" during her performance. That lawsuit was later dismissed.
Huffington Post
Monday, 02 December 2013 21:55
Monday, 02 December 2013 12:52
New Delhi, Dec 2 (IANS) Designer Harsh Gupta has come up with Christmas collection and says he has taken inspiration from pop star Madonna's popular song – "Secret" – for the designs.
"For my autumn-winter 2014 collection, I took inspiration from the song 'Secret' by Madonna," Gupta told IANS, and added that an inspiration is everything for an artist or a designer.
"It gives you required direction, be it mood, style, silhouette or interpretation. Inspiration is the guiding force behind every artist or designer`s work," he said.
The collection offers glamorous, high-end, cocktail evening dresses for modern confident women.
"I love the song and found it very captivating to portray the woman I wanted to show through the collection. I kept visualising a modern, feminine, confident, sultry and very attractive woman while conceptualising the styles for my 2014 couture collection," said Gupta.
For the apparels, Gupta indulged in fine fabrics like gazar silk, satin silk, silk-taffeta, single jersey lycra, silk-chiffon, georgette and brocade in range of colours such as mid-night blue, burgundy, bone-gray, brass-green, emily pink, daffodil yellow, black, copper and cadmium red.
The entire collection was put together in three months and Gupta says working on the collection was a memorable experience.
"We actually researched on some very innovative couture making techniques from Paris and followed some strict methods of couture cutting and sewing techniques while crafting the whole collection. It was truly a very memorable experience for me and my team," he said.
- See more at: http://www.canindia.com/2013/12/madonnas-song-inspires-harsh-guptas-collection/#sthash.Z7WdL98c.dpuf
Monday, 02 December 2013 08:04
<<

Start

<

Prev

1

2 3 4 5 6 7 8 9 10 Next > End >>


Page 1 of 10