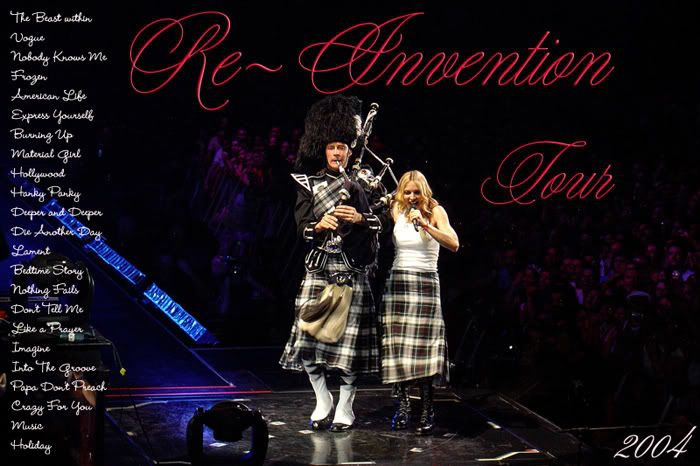 Tour Dates
May 24th Forum Los Angeles, CA
May 25th Forum Los Angeles, CA
May 27th Forum Los Angeles, CA
May 29 MGM Grand Las Vegas, NV
May 30 MGM Grand Las Vegas, NV
June 2 Arrowhead Pond Anaheim, CA
June 3 Arrowhead Pond Anaheim, CA
June 6 HP Pavilion San Jose, CA
June 8 HP Pavilion San Jose, CA
June 9 HP Pavilion San Jose, CA
June 13 MCI Center Washington, DC
June 14 MCI Center Washington, DC
June 16 Madison Square Garden New York, NY
June 17 Madison Square Garden New York, NY
June 20 Madison Square Garden New York, NY
June 21 Madison Square Garden New York, NY
June 23 Madison Square Garden New York, NY
June 24 Madison Square Garden New York, NY
June 27 Worcester Centrum Boston, MA
June 28 Worcester Centrum Boston, MA
June 30 Worcester Centrum Boston, MA
July 1 Worcester Centrum Boston, MA
July 4 Wachovia Center Philadelphia, PA
July 5 Wachovia Center Philadelphia, PA
July 7 Continental Airlines Arena E. Rutherford, NJ
July 8 Continental Airlines Arena E. Rutherford, NJ
July 11 United Center Chicago, IL
July 12 United Center Chicago, IL
July 14 United Center Chicago, IL
July 15 United Center Chicago, IL
July 18 Air Canada Centre Toronto, Canada
July 19 Air Canada Centre Toronto, Canada
July 21 Air Canada Centre Toronto, Canada
July 24 Philips Arena Atlanta
July 25 Philips Arena Atlanta
July 28 Office Depot Center Ft. Lauderdale, FL
July 29 Office Depot Center Ft. Lauderdale, FL
August 1 American Airlines Arena Miami, FL
August 2 American Airlines Arena Miami, FL
August 14 Manchester Evening News MEN Arena, England
August 15 Manchester Evening News MEN Arena, England
August 18 Earls Court London, England
August 19 Earls Court London, England
August 22 Wembley Stadium London, England
August 23 Wembley Stadium London, England
August 25 Wembley Stadium Madonna Tickets London
August 26 Wembley Stadium London, England
August 29 Slane Castle Dublin, Ireland
September 1 Bercy Paris, France
September 2 Bercy Paris, France
September 4 Bercy Paris, France
September 5 Bercy Paris, France
September 8 Arnhem, Netherlands
September 9 Arnhem, Netherlands
September 13 Lisbon, Portugal
September 14 Lisbon, Portugal
Interesting Tour Facts:

-Madonna mostly played her greatest hits during this tour with a selection of songs from most recent album American Life
-This was the first time that Madonna used a pit in her stage, tickets could not be bought only won through competitions. Fans really were a part of the show as they were 'inside' the stage
-Madonna cancelled the second show in LA (right after the world premiere) due to stomach flu
-Madonna's documentary I'm Going To Tell You A Secret was filmed during this tour
-The shows in paris on September 4 and 5 were both professionally filmed by Jonas Akerlund and used in the documentary

-The tour was planned to stop in Israel but this was scrapped as her manager thought it'd be too dangerous
-The tour ended in Lisbon Portugal, both shows were filmed for DVD release
-This tour brought Madonna back to Holland after an absence of 14 years!
-During the second show in Arnhem, dancers and crew played tricks on Madonna, dancers changed parts, other video's were shown etc.
-The reviews were absolutely outstanding, in Holland she was even complimeted for her powerful singing voice
-The Re-Invention Tour was never released on DVD, although the recording did leak onto the internet
-IGTTYAS was premiered in both USA and London, fans were invited to the premiere in London (the 200 that queued for the Koko gig all received a personal invitation), the front row was reserved for them and all got a gift bag. Madonna and Guy attended the screening as well in Chelsea Cinema
-IGTTYAS was premiered in Holland on Dutch TV channel Veronica
Merchandise / clipping / reviews / etc.
| | |
| --- | --- |
| Tourbook 1st Edition | Tourbook 2nd Edition |
| | |
| VIP Platinum laminate | VIP Platinum sticker |
| | |
| Working pass | London ticket August 22 |
| | |
| Paris ticket September 4 | Paris ticket September 5 |
| | |
| Arnhem September 8 | Arnhem September 9 |
| | |
| Lisbon September 13 VIP standing ticket | Lisbon September 14 Family & Friends ticket |
| | |
| White plectrum | Black plectrum |
| | |
| Official Tour poster 1 | Official Tour poster 2 |
| | |
| Official Tour poster 3 | Official Tour VIP poster |
| | |
| Unofficial poster | Madonna tour purse |
| | |
| Official tour shirt front | Official tour shirt back |
| | |
| Madonna is my homegirl cap | Madonna is my homegirl shirt |
| | |
| Tourlight | Souvenir portrait |
| | |
| Official Merchandise catalog | Official Merchandise catalog 1 |
| | |
| Official Merchandise catalog 2 | Official Merchandise catalog 3 |
| | |
| Official Merchandise catalog 4 | Julien d´Ys Book |
| | |
| Icon | Icon |
| | |
| US magazine article | US magazine article |
| | |
| US magazine article | US magazine article |
| | |
| US magazine article | National Enquirer cover |
| | |
| National Enquirer page 1 | National Enquirer page 2 |
| | |
| National Enquirer page 3 | National Enquirer page 4 |
| | |
| US Globe page 1 | US Globe page 2 |
| | |
| US people article | UK article on ticket sales |
| | |
| UK Star magazine page 1 | UK Star magazine page 1 |
| | |