Signsession 'Adventures of Abdi'
This genuine autograph by Madonna was written in the Adventures of Abdi book at the signing in Selfridges in London on November 11 2004.

To read all about this day and meeting please click HERE
Madonna pre-signed 250 books especially for this day, she handed these to the 250 fans personally who all had the best day of their lifes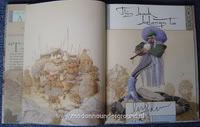 For Hans Love Madonna
The year 2009 wasn't an easy one for Hans. In April he suffered cardiac arrest which hit us all hard. Thankfully Hans recovered and we got to celebrate his birthday in July, he turned 40!

To try and celebrate it the best way I could I tried everything to make sure he got the best birthday present ever, a real and personal signature from Madonna to Hans.

Hans and I had been on an autograph hunt for a while but sadly we failed every time. After a lot of e-mails with Madonna's management, I one day received an email telling me that a Fedex package was on it's way! I couldn't believe my eyes, I did it? I really did it?

So yes, indeed a day later a Fedex envelope landed on my doorstep, it included a gorgeous Live Nation promo pic (of the Get Stupid video) signed in silver 'For Hans Love Madonna'. You can imagine how excited I was, it was the hardest job for me to not tell Hans immediately and had it remain a surprise. I still couldn't keep it to myself and a few days before his birthday I told him I had to come by to get him his gift.

Hans received the envelope, opens it, takes the photo out, looks at it for a few seconds but there was no reaction at all, while I was basically jumping up and down of excitement.

Hans wasn't getting 'it' and it took quite a while before Hans knew what he was holding in his hands, a personal autograph by none other than Madonna! Finally he was excited, happy and in disbelief. He framed the photo so everyone got to have a look at it on his birthday.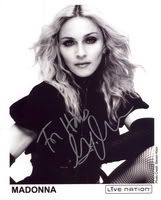 For Kimberly Love Madonna
On September 11 2009 I received an email from Madonna's management asking if I had received a Fedex envelope? I did not and didn't get why as I wasn't expecting anything. I mailed Hans and he too didn't knew about it.

But then Hans told the truth, he did receive a Fedex envelope and it included a Live Nation promo pic signed by Madonna to me! Madonna's management sent this to Hans as I was moving houses. I was completely surprised, I hadn't expected this at all! I only contacted them to arrange the pic for Hans. They told me they wanted to get me a gift as a thank you for being so kind to my friend.

Here finally a signed picture to myself, dedicated to my name. I didn't even need to ask/beg and pray for it, making it even more precious to me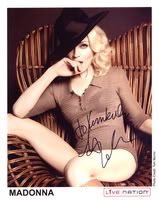 Thank you Madonna
bigger crown than this we never could've imagined on celebrating our five year anniversary as a fansite!
When we started our website in March 2006 we never could've dreamed that in exactly five years time the lady herself would be signing our website banners!
Of course this wasn't an easy job to do, but look and see, everything is possible in life! As Madonna herself has said Dreams Come True!

When we spoke to Madonna's management about our five year anniversary at the end of March and celebrating it by being present at the collectors fair in Utrecht in April, they suggested themselves if we would like it if Madonna would sign something for this celebration. We actually couldn't believe at first that they were suggesting this as this is without doubt something unbelievably amazing.

After taling this over we sent them two huge banners that we had printed to celebrate our anniversary. We didn't hear nothing for months and frankly had given up hope. But on February 14 Valentinesday Kimmy received a Fedex package in the early morning. In a poster tube I took out the banners, both were signed by Madonna in silver! We were in complete disbelief as we never expected Madonna would agree to sign something for our celebration in the first place.

But here they were, two beautiful genuine signed banners by the one and only Queen Of Pop Madonna! To thank the management we compiled a book of our history with stories and pictures of things we had worked on (FAME parties, IDFA, H&M campaigns etc.) The book has been received and they loved it, a copy of this we will bring to the fair for everyone to see on April 9 and 10.

We'd like to thank Madonna and her management for this beautiful present, we couldn't have imagined a bigger surprise on our fifth year anniversary!