COADF promo tour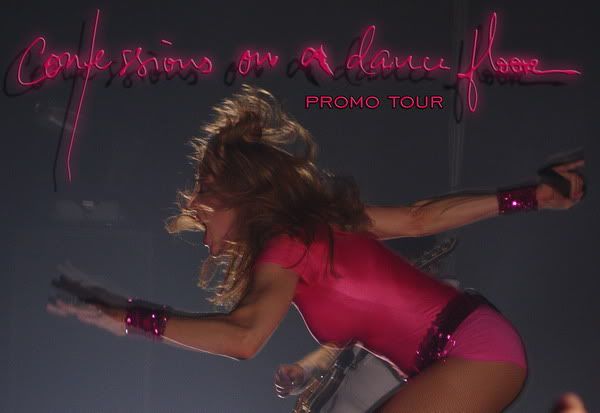 -In New York she made a surprise appearance in a nightclub where tracks of COADF were played. She got up to the stage and danced, invited two fans to dance with her
-Madonna started her European promotional tour officially in Lisbon during the MTV Awards. Hung Up was performed live and she emerged from a giant disco ball.
-The promo tour ging continued in London where Madonna was a guest at Parkinson and performed Get Together for the very first time, Hung Up and gave an interview
-On November 5 Madonna was a guest in Wetten Dass in Mannheim Germany. Tickets were not available and only if you were on a guest list. Madonna repeated the same choreography as performed at the MTV Awards. After the routine she spoke with Thomas Gottschalk, accepted flowers and waved to the audience
-Madonna officially released COADF on November 15 in KOKO in London. Fans only were allowed when they had won tickets through competitions, were on the guestlist or had queued outside. The tiny venue only held a small amount of people so these were hot tickets. Fans got their exclusive ticket and wristband at 11am and had to write down their names and address. Fans were then told by Madonna's manager Guy Oseary that Madonna had personally invited all 200 of them to attend the exclusive premiere of IGTTYAS later that month
-the performance at KOKO was broadcast live on the web, Madonna performed Hung Up, Get Together, I Love New York, Let It Will Be (a new mix) and Everybody. The show was absolutely amazing and made headlines the next day
-Madonna also performed at Star Academy in France
-On November 18 she was a guest at Children In Need at the BBC Studio's in London. Of the many acts she was the first to perform. Madonna could only stay for 20 minutes, so she first performed Get Together followed by Hung Up and a little interview. There were only fund raisers and children in the audience. Tickets were not for sale.
-November 19 marked the date of a historic Madonna performance at G-A-Y. Fans either got tickets through the manager by answering questions or were in the queue since early that morning. Each wristband was 20GBP. Her gig started late that night and in a mind blowing hot pink outfit she performed one of her greatest sets ever. It was the same setlist as at KOKO but she added a bit of JUMP to it
-Madonna and Guy kept their promise and invited all 200 fans who had waited at KOKO to the premiere of IGTTYAS at the Chelsea Cinema in London
-Madonna continued her promo tour all the way to Japan
-Read the COADF report by Kimmy
-Read the G-A-Y report by Hans
-Visit the photo gallery
Merchandise
| | |
| --- | --- |
| KOKO ticket | KOKO wristband |
| | |
| Wetten Dass ticket | Children in Need ticket |
| | |
| Children in Need promo pic | G-A-Y flyer |
| | |
| coadf flyer front | coadf flyer back |
| | |
| Promo discoball | French VIP room invitation |
| | |
| French VIP room invitation | French VIP room invitation |
| | |
| Album poster | Dutch Litho poster |
| | |
| Koko poster merchandise | promo bracelet |
| | |
| used tile at Koko 1 | used tile at koko 2 |
| | |
| Koko shirt merchandise | G-A-Y wristband |
| | |
| G-A-Y press pic | G-A-Y press pic |
| | |
| Wetten Dass press info | Wetten Dass press info |
| | |
| Wetten Dass press info | Wetten Dass press info |
| | |
| Italian L'uomo mag | USA Rolling Stone |
| | |
| USA Elle | Dutch Elle mag |
| | |
| France Elle | UK Elle |
| | |
| UK Q special edition | UK Tatler mag |
| | |
| UK Observer | UK OK article |
| | |
| UK NEW article 1 | UK NEW article 2 |
| | |
| UK NEW article 1 | UK NEW article 2 |
| | |
| UK NEW article 1 | UK NEW article 1 |
| | |
| UK article 1 | UK article 2 |
| | |
| UK In tough article | UK Newsweek article 1 |
| | |
| UK Newsweek article 2 | UK Newsweek article 3 |
| | |
| UK NOW article 1 | UK NOW article 2 |
| | |