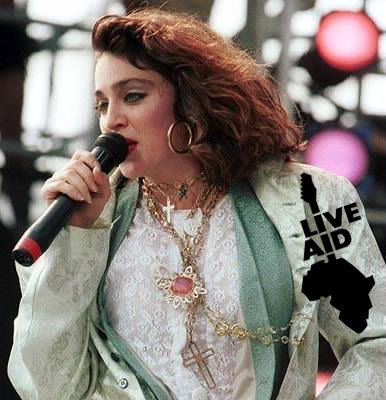 Live Aid vond plaats op 13 juli 1985 en dit benefietconcert duurde maar liefst 16 uur. Het gehele evenement was te zien in Philadelphia, London en andere kleinere locaties.

Bob Geldof en Midge Ure hadden de organisatie in handen van dit benefietconcert dat haar handen ineen sloeg voor Ethiopie waar hongersnood heerste.

Madonna trof in Philadelphia haar grootste publiek ooit en bracht drie nummers live ten gehoren 'Holiday', 'Into The Groove' en 'Love Makes The World Go Round' (een nummer van het album True Blue dat pas een jaar later uitkwam). Ietwat later vergezelde ze de Thompson Twins tijdens een optreden.

Dit optreden vond plaats vlak na de onthulling van oude naakt foto's van Madonna die in Playboy en Penthouse gepubliceerd waren. Madonna reageerde hier tijdens haar optreden op door te zeggen 'I ain't taking shit off today!'
In 2004 kwam een tien uur durende compilatie eindelijk beschikbaar op DVD.
Dank aan onze vriend Fred G. voor de live foto's voor de pasjes

Merchandise / Reviews
| | |
| --- | --- |
| UK ticket front | UK ticket back |
| | |
| UK flyer front | UK flyer back |
| | |
| Live Aid US program front | Live Aid US program back |
| | |
| Live Aid US program page | Live US program page |
| | |
| Live Aid Book front | Live Aid Book back |
| | |
| Live Aid Book | Live Aid Book |
| | |
| Live Aid Book | Live Aid Book |
| | |
| Live Aid DVD front | Live Aid DVD back |
| | |
| Live Aid picture disc front | Live Aid picture disc back |
| | |
| US Hard Rock Café tickets | US PEOPLE cover |
|   | |
| US PEOPLE article 1 | US PEOPLE article 2 |
| | |
| US PEOPLE article 3 | US PEOPLE article 4 |
| | |
| US PEOPLE article 5 | US PEOPLE article 6 |
| | |
| US PEOPLE article 7 | US PEOPLE article 8 |
| | |
| US PEOPLE article 9 | Official UK program |
| | |
| UK Spectrum review | UK The Times review |
| | |
| UK The Times review | Dutch Hitkrant cover |
| | |
| Dutch Hitkrant article 1 | Dutch Hitkrant article 2 |
| | |
| Dutch Hitkrant cover | Dutch Hitkrant article |
| | |
| Dutch Hitkrant article 1 | Dutch Hitkrant article 2 |
| | |
| Dutch Hitkrant article 3 | Dutch Hitkrant article 4 |
| | |
| Dutch Hitkrant article 5 | Dutch Hitkrant article 6 |
| | |
| Dutch Hitkrant article 7 | Dutch Hitkrant article 8 |
| | |
| Dutch Hitkrant article 9 | Dutch Hitkrant article 10 |
| | |