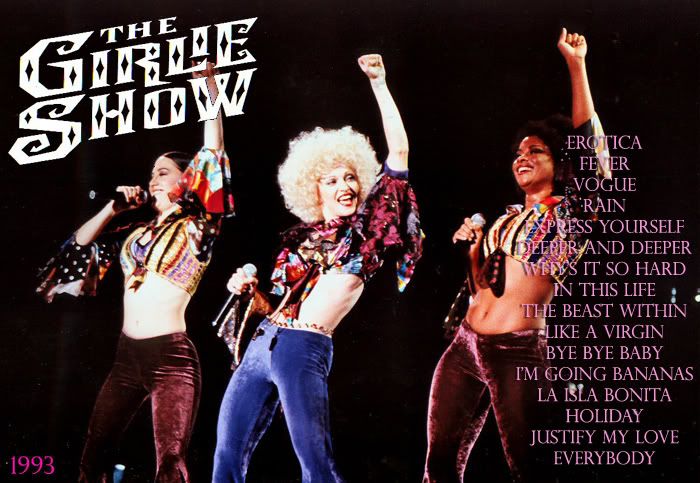 Tour Dates
September 25 - Wembley Stadium, London England
September 26 - Wembley Stadium, London England
September 28 - Bercy, Paris France
September 29 - Bercy, Paris France
October 01 - Bercy, Paris France
October 05 - Park, Tel Aviv Israel
October 07 - Inonu Stadium, Istanbul Turkey
October 10 - Toronto Skydome, Toronto Canada
October 12 - Toronto Skydome, Toronto Canada
October 14 - Madison Square Garden, New York United States
October 15 - Madison Square Garden, New York United States
October 17 - Madison Square Garden, New York United States
October 19 - The Spectrum, Philadelphia United States
October 21 - The Palace, Michigan United States
October 23 - Olympic Stadium, Montreal Canada
October 26 - Juan Ramon Stadium, Bayamon Puerto Rico
October 30 - River Plate Stadium, Buenos Aires Argentina
October 31 - River Plate Stadium, Buenos Aires Argentina
November 03 - Estadio Do Morumbi, Sao Paulo Brazil
November 06 - Estadio Do Maracana, Rio De Janeiro Brazil
November 10 - Foro Sol" (Sun Forum), Mexico City Mexico
November 12 - Foro Sol" (Sun Forum), Mexico City Mexico
November 13 - Foro Sol" (Sun Forum), Mexico City Mexico
November 19 - Cricket Ground, Sydney Australia
November 24 - Anz Stadium, Brisbane Australia
November 26 - Cricket Ground, Melbourne Australia
November 27 - Cricket Ground, Melbourne Australia
November 29 - Cricket Ground, Melbourne Australia
December 01 - Oval, Adelaide Australia
December 03 - Cricket Ground, Sydney Australia
December 04 - Cricket Ground, Sydney Australia
December 07 - Fukuoka Dome, Fukuoka Japan
December 08 - Fukuoka Dome, Fukuoka Japan
December 09 - Fukuoka Dome, Fukuoka Japan
December 13 - Tokyo Dome, Tokyo Japan
December 14 - Tokyo Dome, Tokyo Japan
December 16 - Tokyo Dome, Tokyo Japan
December 17 - Tokyo Dome, Tokyo Japan
December 19 - Tokyo Dome, Tokyo Japan
Interesting Tour Facts
-For the first time Madonna premiered a tour in Europe
-She received more bad reviews then good ones, but these weren't really based on the tour or her singing, more on the image. Most of the press couldn't deny that the show as actually very good and her singing was a lot better then during Blond Ambition.
-She cancelled a show in Frankfurt, which led to many disappointed fans, there is however still a poster available of this cancelled show advertising it.
-The Girlie Show brought Madonna to countries she'd never performed before
-Madonna even sang an early 'Don't Cry For Me Argentina' during her show in Buenos Aires. She later commented on this in an ICON fanzine saying 'believe me, they didn't'.
-During her show in Sao Paolo, fans ran on stage TWICE during the show!. During 'La Isla Bonita' a guy ran on stage but was caught in time. Sadly during 'Justify My Love' a girl managed to ran onstage and grabbed Madonna and wouldn't let go. After a few seconds security managed to pull her off of Madonna and took the crying girl backstage. News reports managed to capture this on film and it was broadcast on the news.
-Madonna enjoyed the tour much more then her previous tours, she had more fun, did a lot more sightseeing.
-The Girlie Show was officially released on VHS, Laserdisc and DVD. The show was filmed in Australia.
-The Girlie Show was also filmed in Fukuoka Japan and only broadcasted on Japanese TV, it never got an official release.
-The Girlie Show was also professionally filmed in Paris, part of this have been used in the MTV 'Girlie Talk' special.
-The Girlie Show was also released in book form. A beautiful large hardback book containing amazing live pictures and a CD with three live tracks.
Merchandise /clipping / reviews / etc.
| | |
| --- | --- |
| Tourbook | Home video 1st edition |
| | |
| Japan Laserdisc with Obi | Taiwan VCD with obi |
| | |
| DVD 1st edition | DVD 2nd edition |
| | |
| Ticket London Sep 25th | Ticket London Sep 26th |
| | |
| French ticket 1 (c) Danny P | French ticket 2 (c) Danny P |
| | |
| French ticket 3 (c) Danny P | VIP Pass |
| | |
| Aftershow Yellow sticker | Aftershow Purple sticker |
| | |
| Guest sticker | Tour watch |
| | |
| Tourcap #1 | Tourcap #2 |
| | |
| Tour button #1 | Tour button #2 |
| | |
| Tour viewer | Tour viewer inside look |
| | |
| Tour matches | Nudi pen (black & red) |
| | |
| Japanese promo flyer | Japanese calender |
| | |
| Official Girlie Show book | Girlie show book cd |
| | |
| Tour boxer | Australian hoodie |
| | |
| Tour T-shirt red | Tour T-shirt black |
| | |
| Tour T-shirt Rain cover | Tour T-shirt |
| | |
| Australian Tour T-shirt | Mexican Souvenir coin |
| | |
| Icon newsletter | Icon newsletter |
| | |
| UK newspaper ad | UK newspaper poster ad |
| | |
| German Bravo article 1 | German Bravo article 2 |
| | |
| German Popcorn article 1 | German Popcorn article 2 |
| | |
| German magazine article | German newspaper article |
| | |
| German ad about show | German newspaper article |
| | |
| UK Smash hits article 1 | UK Smash hits article 2 |
| | |
| UK Smash hits | UK Smash hits lyrics |
| | |