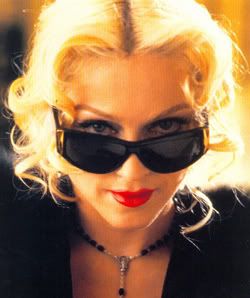 Movie Plotline:
New Year's Eve, and a piccolo (Tim Roth) is about to work his first shift at a hotel. An easy task he thinks, but then the guests starts coming...
This movie compromises four stories into one; Madonna takes part in the first of these short films, playing Elspeth - one of several witches up to bring back a woman from the dead. One of the ingredients is missing in their magic potion - and now they want the piccolo to help them...
Film Facts:
-1995
-Allison Anders segment "The Missing Ingredient".
-COMEDY
-Madonna as Elspeth
Movie Exclusives:
-Madonna played part in one of the four movies named 'The Missing Ingredient'. She played the witch Elspeth.
Movie Merchandise
| | |
| --- | --- |
| UK ex-rental VHS | UK original homevideo |
| | |
| Holland DVD | German Cinema Poster |
| | |
| German Lobbycard | German Lobbycard |
| | |
| German Lobbycard | Dutch review |
| | |
| Dutch review | |
| | |