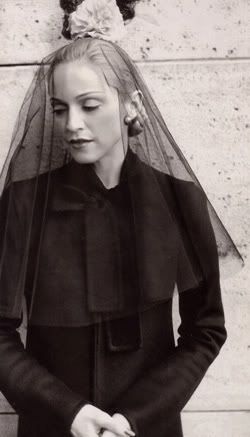 Movie Plotline:
The story of Evita as told by Ché (Antonio Banderas)
Eva Peron (Madonna) was born the illegitimate daughter of a penniless farmer. Determined to make it to the top, Eva attaches herself to a popular tango singer (Jimmy Nail) in the big city.
Eva becomes a radio and film actress, moving in influential circles within Buenos Aires society. But when she becomes involved with rising politician Juan Peron (Jonathan Pryce), the establishment disapprove and he is arrested. Eva fights on for freedom, both for her husband and the oppressed masses. Peron is freed by the people, the couple marry and Peron is elected president.
But Eva's greatest battle is yet to come.
Film Facts:
-1996
-Directed by: Alan Parker
-MUSICAL / DRAMA
-Madonna as Eva Peron
Movie Exclusives:
-Madonna had been in talks for years for playing the part of Eva Peron for the movie version
-She wrote Andrew Lloyd Webber a letter begging for her part, and sent the 'Take A Bow' video
-Madonna was loved and hated wherever she went to film
-She wore brown contacts for her role as Eva Peron
-Madonna had some vocal coaching to train her voice and sing the very difficult songs, but she pulled it off brilliantly.
-Madonna kept a diary during filming, which was later published in the 'Vanity Fair'
-Madonna found out that she was pregnant with her first child during filming!
-Of course the filming continued, but Madonna had to sit every now and then to recover from dizzy spells
-Madonna herself spoke with the president of Argentina to convince him of their good intentions and the brilliantness of the movie, and of course to ask if they could film on the actual Casa de Rosada
-During the filming of the scene where Eva gets told she is dying because she has cancer, Madonna tried to imagine how her own mother must've felt when she was told the news. Madonna spent the entire day crying.
-Madonna attended several premieres of this movie, the world premiere in Los Angeles was the most spectacular, she entered as a true legend
-the movie was a success
-Madonna received a Golden Globe for her part as Eva Peron, well deserved!. Madonna was very touched by this.
-The world was surprised when Madonna did not even get nominated for an Oscar
-It was clear to everyone that she did not receive the nomination because she was simply Madonna. The jury could not and would not accept her as a serious actress
-Madonna rose above the jury, when she performed during the Oscars that night and brought an amazing live version of 'You Must Love Me'.
-Madonna was praised by everyone for attending the Oscars, she gained respect by everyone
Movie Merchandise
The Making Of Evita UK promo video

Documentary vhs with Madonna interview

Holland homevideo

UK homevideo

USA Laserdisc box set front

USA Laserdisc box set back

Rosie O Donnell Show USA Promo video

USA laserdisc front

USA laserdisc back

Holland promo dummy videocase

Taiwan VCD

 

 

 

USA DVD

UK DVD

Holland DVD

Greek Promo DVD

France Promo Box

France Promo contents

 

 

USA ICON

USA ICON page

USA ICON

USA ICON backcover

USA Promo flyer

USA Promo flyer front

USA promo flyer

USA Promo props

USA promo postcard

USA promo postcard

USA promo card

Foreign promo flyer

The Making Of Evita official book

On cover of songwords Smash Hits

UK Article on Golden Globes

German Lobbycards

Cinema poster

Holland poster

Dutch homevideo Ad

Dutch article

Dutch article on Golden Globes

Dutch newspaper Ad

Dutch Cinema newspaper ad

Dutch Ad on Oscars

Dutch newspaper article

Dutch newspaper article

Dutch article

Dutch Ad for the soundtrack