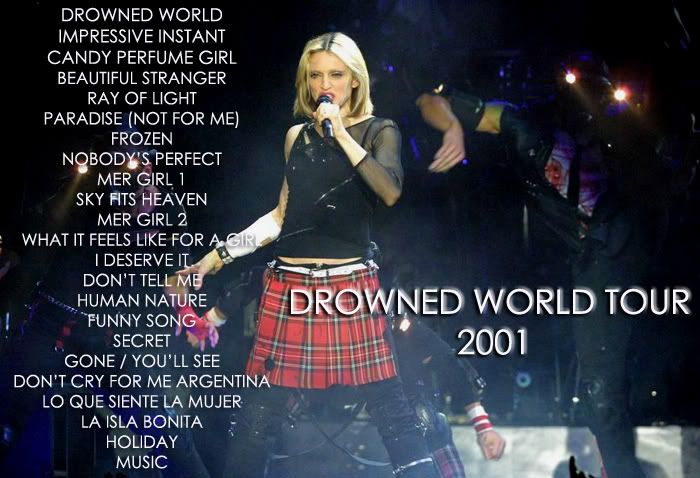 Tour Dates
June 05 - Arena, Cologne, Germany (geannuleerd)
June 06 - Arena, Cologne, Germany (geannuleerd)
June 09 - Palau Sant Jordi, Barcelona, Spain
June 10 - Palau Sant Jordi, Barcelona, Spain
June 13 - Fila Forum, Milan, Italy
June 14 - Fila Forum, Milan, Italy
June 15 - Fila Forum, Milan, Italy
June 19 - Max Schmeling-Halle, Berlin, Germany
June 20 - Max Schmeling-Halle, Berlin, Germany
June 22 - Max Schmeling-Halle, Berlin, Germany
June 23 - Max Schmeling-Halle, Berlin, Germany
June 26 - Palace Omnisports de Paris Bercy, Paris, France
June 27 - Palace Omnisports de Paris Bercy, Paris, France
June 29 - Palace Omnisports de Paris Bercy, Paris, France
June 30 - Palace Omnisports de Paris Bercy, Paris, France
July 04 - Earls Court, London, England
July 06 - Earls Court, London, England
July 07 - Earls Court, London, England
July 09 - Earls Court, London, England
July 10 - Earls Court, London, England
July 12 - Earls Court, London, England
July 21 - First Union Center, Philadelphia, PA
July 22 - First Union Center, Philadelphia, PA
July 25 - Madison Square Garden, New York, NY
July 26 - Madison Square Garden, New York, NY
July 28 - Madison Square Garden, New York, NY
July 30 - Madison Square Garden, New York, NY
July 31 - Madison Square Garden, New York, NY
August 02 - Continental Airlines Arena, East Rutherford, NJ
August 03 - Continental Airlines Arena, East Rutherford, NJ (geannuleerd)
August 07 - Fleet Center, Boston, MA
August 08 - Fleet Center, Boston, MA
August 10 - MCI Center, Washington, DC
August 11 - MCI Center, Washington, DC
August 14 - National Car Rental Center, Miami, FL
August 15 - National Car Rental Center, Miami, FL
August 19 - Philips Arena, Atlanta, GA
August 20 - Philips Arena, Atlanta, GA
August 25 - The Palace of Auburn Hills, Detroit, MI
August 26 - The Palace of Auburn Hills, Detroit, MI
August 28 - United Center, Chicago, IL
August 29 - United Center, Chicago, IL
September 1- MGM Grand, Las Vegas, NV
September 2- MGM Grand, Las Vegas, NV
September 5 - Oakland Arena, Oakland, CA
September 6 - Oakland Arena, Oakland, CA
September 9 - Staples Center, Los Angeles, CA
September 11 - Staples Center, Los Angeles, CA (opnieuw gepland)
September 13 - Staples Center, Los Angeles, CA
September 14 - Staples Center, Los Angeles, CA
September 15 - Staples Center, Los Angeles, CA (nieuw geplande data van Sept. 11 show)
Interesting Tour Facts
-Madonna received rave reviews everywhere she went
-She received some complaints about playing so much new material instead of old.
-Madonna almost cancelled shows in Berlin due to the problems with her throat
-Madonna cancelled the first two shows in Cologne due to technical problems
-Madonna cancelled a show in East Rutherford due to laryngitis
-Madonna re-scheduled the September 11 show in LA due to terrorist attacks on the WTC in NY
-The second show in Barcelona was filmed professionally, but has yet to see the light of day in full. However you can see clips of this show in the HBO special that was created before the live broadcast.
-Several things went wrong during the second Barcelona show, screens didn't work all the time. Also Madonna had put on some fake eyebrows during the geisha section, which wasn't seen ever since.
-Mirwais joined Madonna to play 'Don't Tell Me' at the Paris 27th show
-During the London shows her wig fell off during the geisha section, she decided to keep it in the show
-Madonna changed her opening costume when she played the US, also her hair changed almost each and every show.
-The second show in Detroit was filmed professionally and broadcasted on USA TV. It was also broadcasted on a Dutch paychannell called Cannel +.
-The Drowned World Tour was released officially on VHS and DVD, the same show as the Detroit one, but with different camera angles.
Merchandise / cuttings / reviews / etc.
HBO Promo video

Home video 1st edition

DVD

Tourbook

Berlin June 22 ticket

Berlin June 23 ticket

Paris June 27 ticket

Par

is June 27 ticket

London July 4 ticket

After show purple sticker

After show pink sticker

After show red sticker

VIP purple sticker

VIP Party Guest pa

ss

Berlin Backstage pass 3

London backstage pass 1

London backstage pass 4

London poster

Berlin June 22 wristband

Light stick

Belt buckle and keychain

Tour buttons

Tour viewer

Tour viewer inside

Match book

Temporary Tattoo kit

Tour cap

UK Tour hat

Official DWT tour souvenir belt

Tiffany & Co souvenir jewelery

Tour T-shirt white

Tour T-shirt black

Tour T-shirt

Tour T-shirt

Tour t-shirt front

Tour t-shirt back

France AOL 3"CD

France flyer

Spain article

Spain newspaper article

Spain Top music article 1

Spain Top music article 2

Spain Top music article 3

German Gala Cover

German Gala article 1

German Gala article 2

German Gala article 3

German Gala article 4

German Gala article 5

German Gala article 6